OVER $1.8 BILLION RECOVERED FOR OUR CLIENTS
| CLIENT'S NET RECOVERY | CASE TYPE | DAMAGE |
| --- | --- | --- |
| $151,228,722 | Medical Product | Heart Damage |
| $104,479,115 | Prescription Drug | Diabetes |
| $90,455,399 | Farming Product | Trade Disruption |
| $68,055,680 | Prescription Drug | Heart Damage |
| $60,084,411 | Prescription Drug | Internal Bleeding |
| $29,224,646 | Breach of Contract | Financial Loss |
| $26,923,200 | Medical Product | Skin Death |
| $25,384,216 | Medical Product | Bladder Cancer |
| $19,116,024 | Breach of Fiduciary Duty | Financial Loss |
| $17,617,042 | Breach of Payment Contract | Financial Loss |
| $16,126,301 | D&O Negligence | Financial Loss |
| $14,280,000 | Tire Failure | Quadriplegia |
| $13,177,989 | Sale of Credit Reports | Financial Loss |
| $11,991,670 | Commercial Vehicle Accident | Death |
| $10,026,249 | Tile Sealant | Pulmonary Injury |
| $9,512,498 | Chair Causing Fire | Death |
| $9,187,114 | Industrial Accident | Burn Injury |
| $9,181,172 | Fuel System Failure | Two Deaths |
| $9,146,004 | Medical Product | Cardiac Injury |
| $8,894,000 | Tire Failure | Quadriplegia |
| $8,540,000 | Vehicle Crashworthiness | Death |
| $8,010,186 | Fuel System Failure | Death |
| $7,911,694 | Fuel System Failure | Death |
| $7,787,790 | Tire Failure | Quadriplegia |
| $7,694,750 | Industrial Accident | Death |
Results above are cumulative total amounts net to clients. Past success does not guarantee future success.
Share This Story, Choose Your Platform!
Your Mesquite

18 Wheeler

 Accident Lawyer  

 

  

 
Every year, over 130,000 Americans are injured in large truck crashes. While it may be hard to imagine the experience of being struck on the roadway by an 80,000lb vehicle, this exact circumstance, along with the follow up recovery time:  healing injuries, missing work, and sometimes even coping with the loss of a loved one, is the reality for these truck wreck victims.  Suffering any type of motor vehicle accident can be frightening and overwhelming, but collisions with commercial fleet vehicles present particular challenges to obtaining your fair compensation and settlement. Full fleet and even smaller trucking companies have legal and insurance resources at their fingertips, not to mention experience protecting their interests in the aftermath of an accident.       
Following a serious truck collision, your first concern should be working to heal your injuries and put your life back together. Leave the hard work of fighting the insurance companies to your specialized 18 wheeler accident attorney. Thompson Law has the track record of success and the courage to stand up to the big agencies. Call today to put Lion Law at 844-308-8180  to work for you!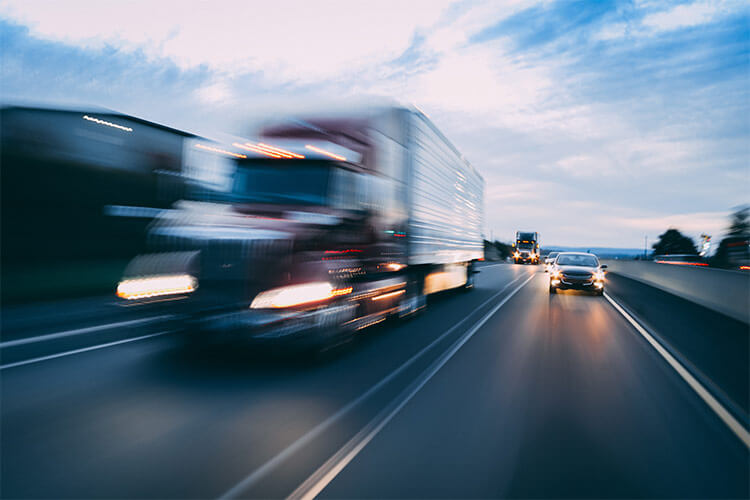 The Fast Facts:      
Large Truck Realities and Risks      
There were 433 fatal Tractor-Trailer crashes in Texas in 2017, and 4657 nationwide, meaning Texas contributed 9.3% of the total nationwide fatal crashes for that year.       
At 65 miles per hour, it takes a tractor trailer 525 feet to stop..that's about 1 ½ football fields.     
The US's largest trucking company, UPS, reported it's 2017 revenue at $65.872 billion. That is equal to $593,147 person in the city of Richardson.      
After gaining a Texas Driver license, you can take your Commercial Driver License (CDL) test in just 14 days after receiving your Commercial Learner Permit (CPL). A Class A CDL is what allows operation of an 18 wheeler.      
The Teamsters Union, which includes truck drivers, was founded over 100 years ago and is the 4th largest labor union.      
FAQs
I've Been in an Accident With an 18 Wheeler. Who's Responsible – The Company or The Driver?
Kirk
2020-01-23T12:18:56-06:00
Many times it can be the fault of both the driver and the 18 wheeler company. Truck drivers can be at fault just like any other motorist for failing to follow the rules of the road. However, 18 wheeler companies and their employees have federal laws they are required to follow that govern things like how many consecutive hours of driving are allowable, minimum numbers of resting hours between jobs, when and how to do inspections, and so on. Also, the 18 wheeler companies have specific duties and responsibilities regarding training their drivers and supervising their work. When trucking companies refuse to follow standard rules, regulations, and practices regarding the commercial and transportation industry, people can get hurt and companies can be found at fault for contributing to or causing the collision through their irresponsible decisions.  An experienced 18-wheeler accident lawyer will know what violations to look for and how to hold both the driver and the company responsible for endangering the motoring public on the roads we all share.  
Types of Tractor Trailer Crashes
Jackknife

When the rear wheels of the trailer lock up and the trailer swings to create an acute angle with the truck. 

Rear End

Due to the weight of a trailer and cargo, these trucks are much 

harder to stop

 than cars, SUVs, or other standard vehicles.  

Broadside

Also called a T-bone collision, one automobile collides with the side panel of another. 

Sideswipe

This type of impact occurs commonly with large trucks that require wide turns, scraping objects or other cars, and can also occur side-by-side on the road.

Rollover

Since the requirement for antilock brakes went into effect, rollovers have surpassed jackknifing as the most dangerous semi accidents.  

Head On

Often due to fatigue or drowsiness resulting in lane wandering.

Single Vehicle

One tractor trailer colliding with debris, stationary objects or going off the road, resulting in damage or injury.

Multi Vehicle

One or more 

semi trucks

 colliding with one or more vehicles or objects, and one of the deadliest forms of vehicular collision.
Serious Tractor Trailer Crashes in 
Mesquite
Unfortunately, every city in DFW has its share of serious accidents. These events occur based on that location's particular infrastructure, traffic patterns, ongoing construction, concentrated areas of attractions and more. Mesquite is no exception, and in just very recent memory, the city has had a number of grave accidents, including a tragic and deadly semi trailer accident on I-30. Tragic and irreparable damage can result from wrecks involving such tremendous and powerful vehicles, and the best that can be done in the aftermath is as much recovery and recuperation as possible. Thompson Law is here for the Mesquite community in these times, working tirelessly to bring at-fault parties to justice, and compassionately support victims.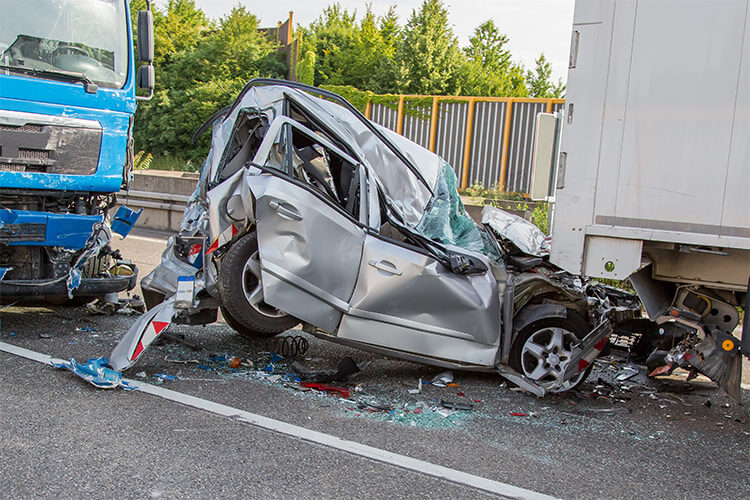 After an 

18 Wheeler

 Accident
What to do When You Have Been Hit by a Tractor Trailer       
Following any commercial vehicle collision, especially after large truck wrecks, and particularly when there are serious injuries on the scene, it is extremely important to involve the proper authorities and make an accurate record of the events. The following provides a quick guide with helpful reminders of what to do following an accident. If there are grave injuries, the most important thing to do is call 911 for help right away.     
Personal ID's – owner, drivers, passengers, witnesses        
Property ID's – plate numbers, insurance info, registration info, location info        
Photograph – take pictures of the vehicles involved, the accident site and the damage      
Police – for emergencies call 911, for Mesquite Police call, 972-285-6336  and cooperate fully with the operator, carefully following his or her instructions. When emergency personnel arrive on the scene, comply fully with their instructions as they generate an accident report.    
Proceed – Take care departing the scene! Follow the instructions provided to you by emergency professionals. Gather the police report information when available. Call Lion Law(link) for legal assistance and representation.        
Protect – Protect your rights and interests by calling Thompson Law  at 844-308-8180 as soon as you are able following the accident.        
Once all the appropriate above measures have been taken, the scene has been cleared, and you can safely do so, call Thompson Law at 844-308-8180 for advice on the next steps. Our skilled negotiators and litigators will be able to discuss the details of your situation and guide your claim for optimal results and settlement.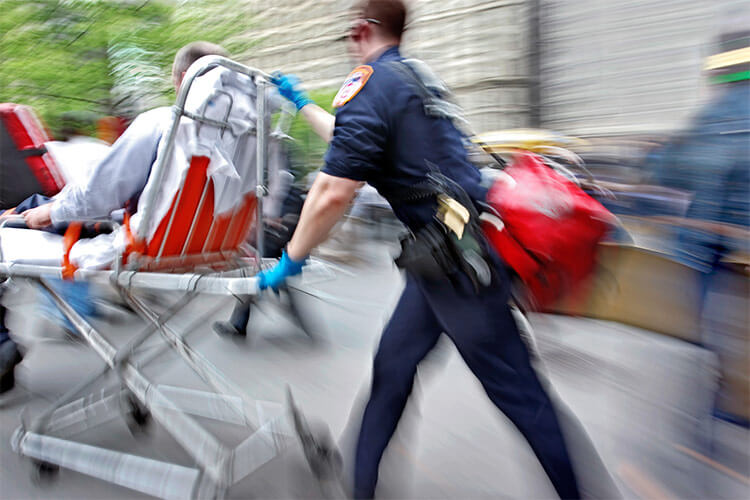 Injuries Resulting from 
18 Wheeler
 Accidents
The size, weight, and payload balance of these vehicles results in some of the most devastating and impactful damage that occurs in roadway accidents. Tractor trailers cause catastrophic collisions, often impacting numerous vehicles. Injuries and consequences resulting from 18 wheeler crashes may include:       
Cuts and Bruises      
Whiplash     
Head Injuries   
Traumatic Brain Injuries (TBI)    
Broken Bones      
Spinal Injuries   
Neck and Disk Injuries      
Joint Trauma and Sprains      
Muscle, Ligament and Tendon Injuries      
Soft Tissue Injuries    
Internal Injuries and Internal Bleeding    
Amputations and Dismemberment    
Death    
The most important thing you can do following a serious 18 wheeler accident is take care of yourself and your health. At Lion Law, we want every client to recover as fully as possible and receive the very best compensation possible. Please feel free to reach out anytime 24/7. We are here to help and look forward to assisting you in your steps forward to repair and recovery.       
The Thompson Law Difference

 
If you have been injured in an 18 Wheeler accident in Mesquite, the time to call Lion Law is right now at 844-308-8180. Your experienced and compassionate attorney will guide you through the process of seeking treatment, protect your interests in negotiations with all at-fault parties, and fight ferociously for the compensation you deserve.        
After a serious truck accident you need a true advocate and an exceptional legal counselor to have your back. With Ryan "The Lion" Thompson, your case is in the best possible hands. Don't be afraid to stand up to the big trucking companies and insurance companies when you have the Lion on your side.  
Texas Statute of Limitations restricts the time you have to file a claim so reach out now to speak with one of our knowledgeable representatives about your accident. 24 hours a day, 7 days a week, Lion Law is here to help.      
Mesquite's 18 Wheeler Accident Lawyer – your FREE consultation with the experts starts HERE  or Here: 844-308-8180 
Contact us for a
free consultation
Dallas: 3300 Oak Lawn Ave., Suite 300, Dallas, TX 75219
Fort Worth: 5500 E Loop 820 S, Suite 109, Fort Worth, TX 76119