OVER $1.8 BILLION RECOVERED FOR OUR CLIENTS
| CLIENT'S NET RECOVERY | CASE TYPE | DAMAGE |
| --- | --- | --- |
| $151,228,722 | Medical Product | Heart Damage |
| $104,479,115 | Prescription Drug | Diabetes |
| $90,455,399 | Farming Product | Trade Disruption |
| $68,055,680 | Prescription Drug | Heart Damage |
| $60,084,411 | Prescription Drug | Internal Bleeding |
| $29,224,646 | Breach of Contract | Financial Loss |
| $26,923,200 | Medical Product | Skin Death |
| $25,384,216 | Medical Product | Bladder Cancer |
| $19,116,024 | Breach of Fiduciary Duty | Financial Loss |
| $17,617,042 | Breach of Payment Contract | Financial Loss |
| $16,126,301 | D&O Negligence | Financial Loss |
| $14,280,000 | Tire Failure | Quadriplegia |
| $13,177,989 | Sale of Credit Reports | Financial Loss |
| $11,991,670 | Commercial Vehicle Accident | Death |
| $10,026,249 | Tile Sealant | Pulmonary Injury |
| $9,512,498 | Chair Causing Fire | Death |
| $9,187,114 | Industrial Accident | Burn Injury |
| $9,181,172 | Fuel System Failure | Two Deaths |
| $9,146,004 | Medical Product | Cardiac Injury |
| $8,894,000 | Tire Failure | Quadriplegia |
| $8,540,000 | Vehicle Crashworthiness | Death |
| $8,010,186 | Fuel System Failure | Death |
| $7,911,694 | Fuel System Failure | Death |
| $7,787,790 | Tire Failure | Quadriplegia |
| $7,694,750 | Industrial Accident | Death |
Results above are cumulative total amounts net to clients. Past success does not guarantee future success.
Share This Story, Choose Your Platform!
Expert Guidance. Compassionate Concern.
Have you or any of your loved ones been hurt in an accident in Fort Worth? You are not alone. Each year, over 421,800 crashes occur on Texas roads, resulting in an injury count that is estimated to be as high as 200,700. This frightening statistic may come as less of a surprise considering that Texas is also home to 11 of the 50 most dangerous highways, with 3 of those top 11 located right here in DFW. Commercial vehicle crashes, car and truck collisions, multiple automobile pileups, workplace accidents, and more can cause the types of bodily, mental and emotional injury that can leave a person suffering and facing difficult new challenges, often with few resources to depend upon.  
Personal injury law was devised to protect you and your property in exactly these instances. In the event of another individual or entity's failure to act, or if that party acts irresponsibly, personal injury claims can bring justice and deliver compensation for the losses you suffered.  
Tort law, another name for Personal Injury law, is centered around two primary concerns. Proving these factors is what determines the outcome of your claim and the related payout.   
Liability – legal responsibility for accident or injury sustained  
Joint Liability – each of the multiple defendants shares full responsibility 
Several Liability – each of the multiple defendants is responsible for their percentage of the overall responsibility 
Damages – the actual injury or loss caused to a person or property 
Compensatory – quantifiable damages such as monies owed for rectifying the personal injury event, including medical bills, repairs and replacement of property, payment covering loss or lost income 
General – harder to quantify losses such as pain and suffering as well as future earnings  
Punitive – damages to punish a defendant for particularly inexcusable conduct 
Thompson Law is here to fight for your rights and represent your best interests when the insurance companies and at-fault parties shirk their responsibilities to justice.  
Contact us now to learn more about how we will fight for what you deserve! 
Thompson Law Core Values:
FAQs
What Should I Do When Injured in an Accident?
Thompson Law
2020-01-23T12:10:12-06:00
Get medical treatment! Your health and safety are the most important thing, and your first priority should be seeking immediate attention from a hospital or doctor. Not sure that you're injured or how serious your injury might be? You should still seek immediate medical attention if you are in a car accident, truck wreck or any other type of accident. 
Getting immediate medical treatment does two things: First, it makes sure that any injuries you sustained are properly diagnosed and treated and second, it helps eliminate any doubt that your injuries were caused by the accident. Often, the shock and adrenaline of an accident can mask symptoms of injury, but making the mistake to skip getting checked out can have serious consequences. By seeking prompt medical treatment, you protect both your health and your ability to seek compensation for medical bills and time off work, with the help of your attorney. 
Personal Injury in Fort Worth: Fast Facts
The most common cause of personal injury claims is automobile collisions, but in Ft. Worth, the 3rd fastest growing city in the United States, there is plenty of opportunity and activity to trigger any type of catastrophic event.  
Unfortunately, with the overall 9.5% population increase that Ft. Worth experienced between 2012 and 2016 came disturbing increases in accident rates: 
Injury accidents – 13.9% increase 
Traffic fatalities – 15.8% increase   
Pedestrian accidents – 9.4% increase 
Pedestrian fatalities – 32.2% increase 
Ft Worth is home to 2 of 

the 50 

most frequently visited

) 

Emergency Room hospitals in the nation. 

 

Ft Worth has the

highest percentage

 of Texans who report 

driving o

ver the speed limit most of the time. 

 

In 

F

ort Worth 

in 2018 there were 

507

 

DWI related

crashes, 

resulting in 

20

 deaths and over 

1

13

 injuries.

 

T

his results in T

arrant County ha

ving

 

both the 

4

th

 

highest 

q

uantity

 

and per capita rate of crashe

s 

in the state of Texas

 
Common Causes of Personal Injury Accidents in Fort Worth 
Some of the most common types of personal injury incidents involve motor vehicles, and even if your case does not fall in one of these categories, we welcome the opportunity to assist you HERE.
Car Accident  
18 Wheeler Accident 
Truck Accident 
Motorcycle Accident 
Pedestrian Accident 
Commercial Accident 
Scooter Accident  
Injuries suffered as a result of collisions or other catastrophic events can vary widely, and the attorneys at Thompson Law have experience across the personal injury spectrum. Some types of trauma that our litigators see most frequently include:  
Broken bones and fractures

 

Soft Tissue Injuries

 

Internal Injuries and Internal Bleeding

 

Joint injuries, like shoulders and knees

 

Neck and 

Spinal injuries



Your Rights After the Accident

 
There are many ways that companies, agencies and individuals fail in their duties to act responsibly and care for others. At Thompson Law, we understand that fighting on your own for your deserved compensation after a serious accident is extremely daunting and frustrating. Individuals can be evasive and uncooperative. Government agencies can be slow and unyielding. Insurance companies and other large commercial ventures have teams of lawyers, huge budgets, and a wealth of experience in protecting their interests. All of these factors waste your valuable time and energy and stand in the way of your rightful compensation.  
Hiring the right legal representation can drastically alter the outcome of your case. You have a right to representation and a right to be treated with dignity and respect. There are no limits or caps placed on the amount you can receive for pain and suffering by the standards of Texas law. At Lion Law, we understand that financial compensation is not enough to atone for the loss or hardship you have experienced. However, hospital and treatment bills, lost wages, and end of life expenses can place an enormous burden on individuals and families. Cash payouts you receive can help lessen the burden of these emerging challenges following a tragic event.  
You have a right to justice and deserve a sense of closure. Following a personal injury incident, Ryan L. Thompson and his team will work relentlessly for your financial recovery. When the time comes to fight for what you deserve, bring a lion to the fight! 
You've Just Experienced an Accident – Now What?
Immediately after an accident in which you are injured, the first thing that you should do is to seek the medical care and treatment that you need. Carefully follow the specific advice provided by your healthcare provider. The best outcome for our clients and us is a steady and successful healing period with full recovery following your incident.  
If you are physically capable of moving and standing after the event, please utilize these suggestions to equip yourself and your Lion Law team with the best information and documentation possible.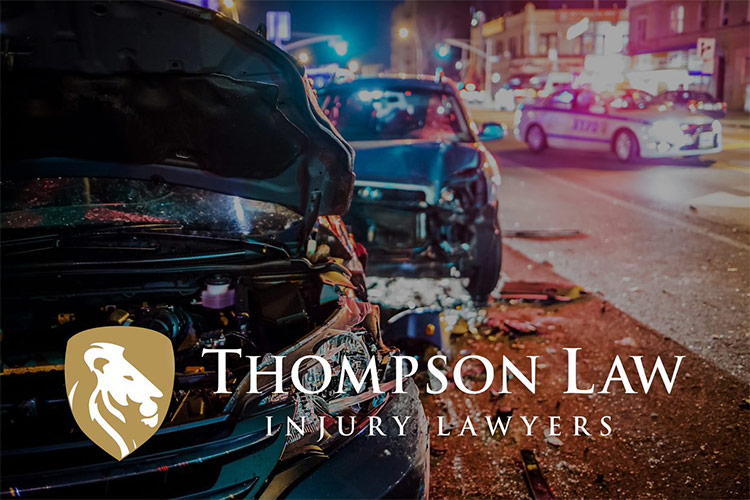 Please always take care to remain safe in the aftermath of an accident! Documenting the events should not come at the expense of causing further accident or injury. Take care not to place people or property in the path of danger. Relocate carefully from the site of the incident. 
Personal ID's – owner, driver, passengers, witnesses 
Property ID's – plate numbers, insurance info, registration info 
Photograph – take pictures of the vehicles involved, the accident site and the damage 
Police – for emergencies call 911, for Ft Worth Police call (817) 392-4222 
 and cooperate with the operator, carefully following his or her instructions. When emergency personnel arrive, cooperate fully with them in generating a report of the accident events. 
Proceed – Take care departing the scene! Follow the instructions provided to you by emergency professionals. Gather the police report information when available. Call Lion Law at 844-308-8180 for legal assistance and representation. 
Protect – Protect your rights and interests by calling Thompson Law at 844-308-8180 as soon as you are able following the accident. 
Do not apologize to others at the scene of the accident. Even used as a figure of speech for checking on others in the aftermath, saying you are sorry can be construed as admitting fault. Do not comment on how you feel physically or provide a statement to insurance representatives. Do not sign any releases or authorizations on the scene or afterwards without the advice of your Thompson Law attorney. 
Your dedicated legal team at Lion Law will guide you through our carefully crafted process, specifically designed to gain you the best results.  
Start by seeking legal advice with Thompson Law here at 844-308-8180 
After speaking with our experienced and compassionate team members about your incident, you will be guided and supported through a process of next steps.
Open a claim

 

Investigate

 the Case

 

Continue 

your 

Medical Care

 

Submit a Demand

 

Negotiate

 

Litigate if required

 

Finali

ze the

 Case

 

Closing Day

 
The Personal Injury Claim Process
Filing a Claim: You need the services of an experienced attorney who will calculate the value of the damages caused and work out an acceptable settlement amount. At Thompson Law our initial consultation and case evaluation are free. Here we look at the merits of your case and advise you on the best course of action.
Gathering Evidence: We immediately begin the process of gathering evidence to determine the cause of the accident. We will take your statement and those of the accident witnesses, gather police and medical reports, and consult with relevant experts on the extent of your injuries.
Negotiating Your Claim: We will be able to negotiate with the insurance company of the at fault party on your behalf. If we're unable to receive a reasonable settlement for you, we will file a lawsuit. We highly recommend consulting an experienced attorney before accepting any settlement offers from an insurer, as many unscrupulous insurance companies offer you a low-ball settlement before the extent of your injuries are known.
Judgment or Settlement: Having an experienced injury lawyer representing you helps ensure that we will use all our skills and resources to pursue a maximum settlement or verdict on your case. After the settlement, we will ensure that the funds get to you as quickly as possible, and guide you through any potential tax implications, if applicable.
Get in Touch for Your Free Case Review

 
Here at Thompson Law, we have a robust team of attorneys, investigators and case managers and decades of legal experience. Our empathetic, passionate, and caring team is dedicated to fighting for the compensation you deserve. We understand what is important to our clients and recognize that each case we take on is critically important. In our efforts, we have successfully recovered over $1.8 billion dollars for our clients. As our client, you pay $0 attorney fees until and unless you are compensated. In short, we don't win until you do.  
Remember, the state law limits the time to file a claim. 
Call us at  844-308-8180  for a free case evaluation. 
Take action now to protect your right to a fair value monetary recovery. 
Fort Worth, TX
5500 E Loop 820 S, Suite 109
Fort Worth
,
Texas
76119
United States (US)
Phone:

817-330-6811
Fax:

214-716-0116
Contact us for a
free consultation
Dallas: 3300 Oak Lawn Ave., Suite 300, Dallas, TX 75219
Fort Worth: 5500 E Loop 820 S, Suite 109, Fort Worth, TX 76119