OVER $1.8 BILLION RECOVERED FOR OUR CLIENTS
| CLIENT'S NET RECOVERY | CASE TYPE | DAMAGE |
| --- | --- | --- |
| $151,228,722 | Medical Product | Heart Damage |
| $104,479,115 | Prescription Drug | Diabetes |
| $90,455,399 | Farming Product | Trade Disruption |
| $68,055,680 | Prescription Drug | Heart Damage |
| $60,084,411 | Prescription Drug | Internal Bleeding |
| $29,224,646 | Breach of Contract | Financial Loss |
| $26,923,200 | Medical Product | Skin Death |
| $25,384,216 | Medical Product | Bladder Cancer |
| $19,116,024 | Breach of Fiduciary Duty | Financial Loss |
| $17,617,042 | Breach of Payment Contract | Financial Loss |
| $16,126,301 | D&O Negligence | Financial Loss |
| $14,280,000 | Tire Failure | Quadriplegia |
| $13,177,989 | Sale of Credit Reports | Financial Loss |
| $11,991,670 | Commercial Vehicle Accident | Death |
| $10,026,249 | Tile Sealant | Pulmonary Injury |
| $9,512,498 | Chair Causing Fire | Death |
| $9,187,114 | Industrial Accident | Burn Injury |
| $9,181,172 | Fuel System Failure | Two Deaths |
| $9,146,004 | Medical Product | Cardiac Injury |
| $8,894,000 | Tire Failure | Quadriplegia |
| $8,540,000 | Vehicle Crashworthiness | Death |
| $8,010,186 | Fuel System Failure | Death |
| $7,911,694 | Fuel System Failure | Death |
| $7,787,790 | Tire Failure | Quadriplegia |
| $7,694,750 | Industrial Accident | Death |
Results above are cumulative total amounts net to clients. Past success does not guarantee future success.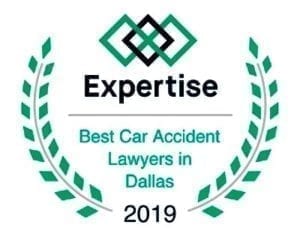 Since Uber's arrival to Dallas in 2012, it and similar rideshare services have only grown their presence in the city. In the past several years, these services, also including Lyft, Yellow Cab via Curb, Alto, Get Me, Wingz, BeMyDD, and the older more established airport shuttles and DART Vanpool program, all show that the consumer desire for on-demand, personalized transportation is strong. However, the city of Dallas has grown concurrently with these companies, and the entire DFW metroplex is a more densely populated place that it was when these industries were just burgeoning. With the positive changes of growth have come downsides, such as increase to infrastructure strain and more automobile accidents due to higher traffic. Rideshare accidents occur regularly in Dallas, and like any motor vehicle collision, can cause severe injury, trauma, and even catastrophic loss.  
If you have experienced a serious rid share accident and need help, reaching out to Thompson Law as your Dallas rideshare accident attorney is the best first step. The expert and compassionate team that Ryan "The Lion" Thompson has assembled is at your service with a wealth of knowledge and expertise to fight for every dollar of your deserved compensation. After a frightening accident in your Uber or Lyft, take your power back, and get The Lion on your side. 
Rideshare

Accidents

: Dangerous Causes and Effects

 
The boom in ride-hailing and similar services certainly represents a wave of change in the way that people and goods move through our cities. Nationally, ridesharing is a $25 billion dollar market, and predictions for 10 years out nearly quadruple this figure. This explosion delivers good and bad effects to users. 
In many ways these rideshare services like Uber, Lyft, Alto, and others can make roads safer. Deterring drunk drivers, cutting back on heavy congestion and traffic, and efficiently using our road and vehicle resources are all benefits that users gain. But in some ways, these providers make things more dangerous. We live in a delivery economy now where UberEats cars and Amazon vans deliver the most minor conveniences on a moment's notice. This explosion of transportation on demand and subscription delivery may offer some benefits and convenience to our area on one hand and increase risk and accident on the other.  
Common causes of accidents in ridesharing or delivery drives have much in common with any automobile wreck. However, the elevated usage of technology during the drives does escalate this risk of accident. Drivers need to stay available on the phone monitoring their current ride and arranging their next pickups. Additionally, since their customers are given a point–to–point transportation experience, drivers are frequently dependent on GPS directions to guide their exact route and location details, further dividing their attention away from the road. Additionally, drivers are not trained by Uber and Lyft, and many work long, irregular hours, all factors that contribute to greater likelihood of accident. Some examples of cause for accident include: 
Driver Negligence – Paying attention to their phone instead of the road 
Driver Error – Failure to stay in lane, maintain control of vehicle, or communicate to other drivers 
Speeding – Especially unsafe on unfamiliar roads to drivers or in heavy pedestrian traffic areas 
Nighttime Visibility – Busy venues and bright lights paired with the challenges of night driving 
Vehicle Malfunction – Faulty parts, failure to maintain  
Road Environment – Weather Conditions, roadway debris  
Inebriated Driving – Avoiding drunk, drowsy or distracted drivers  
Road Congestion – High traffic and chaotic areas where there is most incentive for ride-hailing 
Even if there are slight differences in the main causes of these accidents, the results are very much like any disastrous motor vehicle crash, resulting in possible rollovers, rear-end crashes, head-on collisions, t-bones, sideswipes and single or multi-vehicle crashes. Any of these outcomes can result in tragic injury or even death. 
Call Thompson Law at 844-308-8180 
In many ways, the law is still working to catch up to the ridesharing industry and its new technology. One of the main complications to assigning liability in Uber, Lyft, and other rideshare accidents, is definitively confirming whether the rideshare vehicle driver was operating on behalf of the rideshare company (i.e. en route to a passenger pickup, carrying passengers on board), or operating the vehicle as an individual (i.e. going home after completing all their rides). These delineations are marked in a driver's travels by their use of the app that monitors and offers their routes, communicates with customers, and operates payment functions. Based on this information, the wronged party can take steps to receive insurance payout from the company's insurance policy or the driver's individual policy. 
Still, much of the process of determining liability is similar to other accident types. The details of the accident are recorded by participants and police, and determinations and further investigation into additional liability can be investigated after reporting is done and fault is determined.  
Working with your legal representation from Lion Law to unravel the complications of liability in these accidents brings enormous benefit. Expert litigators have the experience and resources to investigate and understand the full scope of all parties' responsibilities and work on your behalf for your highest rightful compensation.  844-308-8180 
The Role of Insurance in Ride
s
hare Accidents and Settlements
The role of insurance in negotiating and litigating rideshare accidents is uniquely complex. The standard private individual car accidents, or even wrecks with more traditional commercial vehicles (18 wheelers, delivery vans, construction vehicles, etc.) that we see in the personal injury space are highly regulated by existing state and federal laws, and legal precedent surrounding these events has a rich history stretching back decades. The newness of the rideshare industry, coupled with the developmental technology that it utilizes, presents new scenarios and resulting questions about the finite limitations of coverage in a given incident.  
The way that insurance coverage works for rideshare vehicles is a little complicated. Uber and Lyft are the most common providers of this service in the nation, so looking at their arrangement is a good example to show the insurance variables you may be facing after the accident. Uber and Lyft have very similar requirements for their drivers' insurance policies, with a couple key differences:  
Base Coverages

 

$50,000 – driver's liability for bodily injury per person case of a covered accident

 

$100,000

 – total

 per covered accident

 

$25,000 

–

 property damage for which you are responsible for in a covered accident

 

Coverages en Route to Pickup and During Ride

 

Third-party liability coverage

 – 

$1,000,000.

 

Uninsured or underinsured motorist 

(UM/UIM) 

bodily injury coverage

 – 

$250,000

 

Contingent comprehensive and collision coverage

 – $1,000 deductible, and then pending requirements, Uber's insurance will provide physical damage coverage for the cash value of your vehicle.

 
Base Coverages

 

$50,000 – driver's liability for bodily injury per person case of a covered accident

 

$100,000 – total per covered accident

 

$25,000 – property damage for which you are responsible for in a covered accident

 

 

Coverages during "Driver Mode" for your pickup vehicle and during ride

 

Third-party liability coverage – $1,000,000.

 

Uninsured or underinsured motorist (UM/UIM) bodily injury coverage – $250,000

 

Contingent comprehensive and collision coverage – $

2,5

00 deductible, and then pending requirements, Uber's insurance will provide physical damage coverage for the cash value of your vehicle.

 
Restrictions and exceptions apply to these coverages, so reach out to us here at 844-308-8180  for help navigating your claim and case.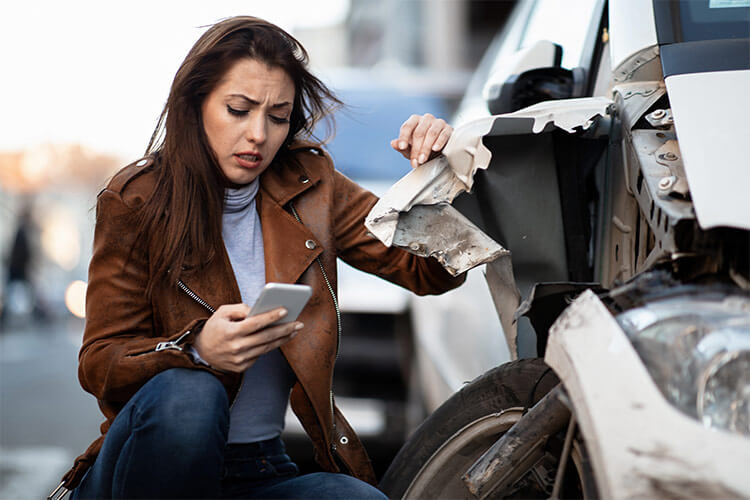 Although it may sound impressive that Uber and Lyft both provide $1 million in liability coverage for their drivers, the coverage varies depending on which "period" the driver is in. Uber and Lyft's insurance policies are also contingent, so they will only apply if you have made a claim on the driver's policy first. 
In Lyft's insurance coverage arrangement, a driver's time is divided into 4 different periods:  
Period 1 – When the driver is not logged in on the Uber or Lyft app, no coverage is provided, although the driver's personal auto insurance might apply.

 

Period 2 – When the driver is logged into the Uber or Lyft app but has not accepted a ride request. Uber and Lyft provide liability coverage for any accident that's the fault of the driver up to $50,000 in bodily injury coverage per person, $100,000 in total bodily injury coverage per accident, and $25,000 property damage (excluding the driver's car). Claims first go to their auto insurance carriers, with rideshare policies kicking in only if the damage exceeds the policy limits on the driver's personal auto insurance policy. 

 

Period 3 – When the driver has accepted a trip and is in-route to its destination (pick-up location), liability coverage increases to $1,000,000 in bodily injury per accident. This insurance covers the injuries and vehicle damage sustained by anyone who is hit by a Lyft or Uber driver when the rideshare driver is determined to be at-fault. Liability coverage does not cover injuries sustained by the rideshare driver. Uninsured/Underinsured Motorists Coverage (UM and UIM) kicks in for any incident in which the driver is liable. Comprehensive and Collision coverage also kicks in at this point in a rideshare policy, meaning the driver is covered for physical damage to the vehicle, regardless of who is determined to be at–fault. 

 

Period 4 – When the customer is in the car, liability coverage up to $1,000,000 is applied, plus limited coverage for damage to the driver's car AND uninsured

motorists'

coverage (UM/UIM).
For more information on the processes around ridesharing insurance claims, see our blog here.  
Injuries from Rideshare

A

ccidents

 
Injuries from rideshare vehicle accidents are similar to injuries seen in types of automobile accidents. Even in a seemingly minimal fender bender, passengers can suffer whiplash or cuts and bruises from seatbelts and object flying through the car. Certainly, injuries can be much more severe, especially when the intensity of the crash is greater. Possibility of severe injury in ride-hail crashes may also be increased due to people often using the services during high–risk times:  after drinking, late at night, in areas of concentrated attractions and traffic, etc. These factors mean that Uber & Lyft drivers are navigating challenging roadways rife with visibility and DUI concerns. If they are not operating the vehicle carefully and with their full attention, their passengers can sadly suffer the consequences.  
If this tragic misfortune has happened to you, do not hesitate to take care of yourself and fight for your deserved compensation. Contact Thompson Law right away if you have been involved in an accident with a rideshare service driver. Our skilled team is prepared to take your call 24/7/365, and we can get to work guiding your treatment and negotiations processes right away. We are passionate about fighting for justice for our clients, and have helped people with motor vehicle accident injuries including, but not limited to: 
Cuts and Bruises   

 

Head Injuries

 

Broken Bones   

 

Spinal Disk Injuries  

 

Joint Trauma 

 

Sprains and Strains

 

Muscle, Ligament and Tendon Injuries   

 

Soft Tissue Injuries 

 

Internal Injuries

 

Internal Bleeding 

 

Amputations

 

Dismemberment 

 
Why You Need a Lawyer After a Rideshare Accident

 
After a ride share accident, it is essential to make sure the event is documented. For serious injuries especially, call 911 and immediately request emergency assistance to the scene. Document information about the drivers, vehicles, passengers, witnesses, and any others involved to the greatest extent you can, or in cooperation with Police direction. This information after all motor vehicle accidents is essential to ensuring justice is served and victims receive just compensation for their losses. 
It is also good idea to be represented by an accident attorney after any car accident. Based on the information we know about complications to liability and insurance in rideshare accidents, these events are a particularly critical time to engage the assistance of a rideshare lawyer. If you have been hurt in an accident by an Uber, Lyft, or other rideshare, delivery or commercial driver in Dallas, the time to seek help from Lion Law is now.  
How Thompson Law Can Help After Your Rideshare Accident

 
Have you suffered an injury from a rideshare accident? Thompson Law truly understands the painful, frustrating, and expensive implications that these injuries can have on your mind, body and life. Our compassionate legal consultants are standing by to speak with you about your accident and resulting injuries.   
When you reach out to the Lion Law firm following your Uber, Lyft, or other rideshare vehicle collision, your skilled attorney and team will guide you every step of the way through your claim and case process. Ryan L. Thompson and his team have the experience and passion to examine and investigate every detail of the events surrounding your injury. Through this process, we pinpoint and hold accountable any and all parties liable for your loss, pain and suffering. Your dedicated team will go to battle for your best possible settlement and your highest rightful compensation. Our results speak for themselves, and our drive to seek justice for you as our client is limitless.   
Suffering an injury after a serious rideshare accident can make recovery and healing a full-time job. Take care, take heart, and leave the hard work of fighting the insurance companies, rideshare companies and all at-fault parties to your trusted lawyer at Thompson Law.   
Expert Uber & Lyft Accident & Injury Attorney – Legal Consultations Start Right Here or Right Here at 844-308-8180
Don't hesitate, state law limits your time to file a claim, and you deserve help right away.   
Contact us for a
free consultation
Dallas: 3300 Oak Lawn Ave., Suite 300, Dallas, TX 75219
Fort Worth: 5500 E Loop 820 S, Suite 109, Fort Worth, TX 76119
San Antonio: 777 E. Sonterra Suite 330, San Antonio, TX 78258