OVER $1.8 BILLION RECOVERED FOR OUR CLIENTS
| CLIENT'S NET RECOVERY | CASE TYPE | DAMAGE |
| --- | --- | --- |
| $151,228,722 | Medical Product | Heart Damage |
| $104,479,115 | Prescription Drug | Diabetes |
| $90,455,399 | Farming Product | Trade Disruption |
| $68,055,680 | Prescription Drug | Heart Damage |
| $60,084,411 | Prescription Drug | Internal Bleeding |
| $29,224,646 | Breach of Contract | Financial Loss |
| $26,923,200 | Medical Product | Skin Death |
| $25,384,216 | Medical Product | Bladder Cancer |
| $19,116,024 | Breach of Fiduciary Duty | Financial Loss |
| $17,617,042 | Breach of Payment Contract | Financial Loss |
| $16,126,301 | D&O Negligence | Financial Loss |
| $14,280,000 | Tire Failure | Quadriplegia |
| $13,177,989 | Sale of Credit Reports | Financial Loss |
| $11,991,670 | Commercial Vehicle Accident | Death |
| $10,026,249 | Tile Sealant | Pulmonary Injury |
| $9,512,498 | Chair Causing Fire | Death |
| $9,187,114 | Industrial Accident | Burn Injury |
| $9,181,172 | Fuel System Failure | Two Deaths |
| $9,146,004 | Medical Product | Cardiac Injury |
| $8,894,000 | Tire Failure | Quadriplegia |
| $8,540,000 | Vehicle Crashworthiness | Death |
| $8,010,186 | Fuel System Failure | Death |
| $7,911,694 | Fuel System Failure | Death |
| $7,787,790 | Tire Failure | Quadriplegia |
| $7,694,750 | Industrial Accident | Death |
Results above are cumulative total amounts net to clients. Past success does not guarantee future success.
Share This Story, Choose Your Platform!
Your Frisco

Truck Accident Lawyer

 

 

 
In 2018 there were zero deathless days on Texas roads. A major contributing factor to this terrible truth is the danger and force of large trucks on the road. In 2016 there were 541,000 large truck and bus crashes, resulting in 4,079 deaths and nearly 119,000 injuries nationwide. The magnitude of these accidents can result in additional challenges through the process of gaining your rightful determination and settlement. Trucking companies have legal and insurance resources at their fingertips that individuals simply do not, plus a wealth of experience protecting their interests in the aftermath of accidents.    
As a victim of a serious truck wreck simply working to heal your injuries and put your life back together, you may find that you require the help of a specialized accident attorney. Thompson Law has the experience, expertise, and tenacity to stand up to big companies and collect your rightful compensation. After suffering a truck accident injury, you deserve help fighting for your just settlement. Don't hesitate to contact 844-308-8180 Lion Law today.  
FAQs
What Should I Do When Injured in an Accident?
Thompson Law
2020-01-23T12:10:12-06:00
Get medical treatment! Your health and safety are the most important thing, and your first priority should be seeking immediate attention from a hospital or doctor. Not sure that you're injured or how serious your injury might be? You should still seek immediate medical attention if you are in a car accident, truck wreck or any other type of accident. 
Getting immediate medical treatment does two things: First, it makes sure that any injuries you sustained are properly diagnosed and treated and second, it helps eliminate any doubt that your injuries were caused by the accident. Often, the shock and adrenaline of an accident can mask symptoms of injury, but making the mistake to skip getting checked out can have serious consequences. By seeking prompt medical treatment, you protect both your health and your ability to seek compensation for medical bills and time off work, with the help of your attorney. 
Causes
 of Large Truck and Vehicle Wrecks
Trucks can be notoriously dangerous on the road. Their weight, payload size, overall size, and handling ability make them exceedingly precarious when they are not being operated with the driver's full attention and uncompromised ability.        
Even with all that we know about the damage these vehicles can cause when things go wrong, current corporate and industry expectations of long-haul and commercial truck drivers can be extremely demanding, driving the employees and owner-operators to take risks in order to meet tight schedules and cover the most mileage in the least time possible. Individuals driving trucks as their personal vehicle sometimes make risky or negligent choices too, in the way that they load their trucks or with the items they decide to haul.     
Driver Fatigue: Limited or off-cycle sleep opportunities, nearly always after long hours, and grueling onload/offload tasks, contribute to physically and mentally tired drivers.          
Compromised Visibility: Truck size and load can result in blind spots for the driver or block full visibility for the surrounding cars.        
Cargo Issues: Overweight, unbalanced, improperly loaded cargo can lead to leaks, spills, or handling trouble.      
Mechanical: Before antilock brakes were required, starting in 1997, they were a main cause of tractor trailer accidents, particularly jackknifing.       
Road Time Limits: The Federal Motor Carrier Safety Administration regulates Hours of Service that truck drivers may be on the road. However, these mandates are surprisingly lax. For example, property carrying drivers are only required to take a break after their 14th consecutive hour of driving.      
Road Conditions: Inclement weather, icy roads, and low visibility are all complicating factors for every vehicle, but most of all with semis, which require much longer amounts of time to stop or change course.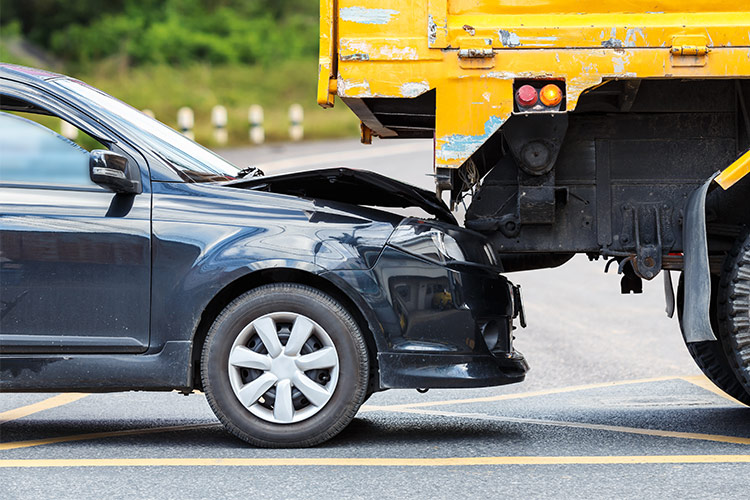 How can you avoid a trucking accident?
Sadly, there is no surefire way to avoid truck crashes. Sometimes even the best efforts still result in unfortunate, and even tragic outcomes. When accidents happen, the best thing you can do is engage the proper authorities for best reporting of the incident and call a specialized truck accident attorney to advise you and represent your rights.     
For your safety and your family's safety, there are a few practices you can employ to be the safest operator possible on the road. Never tailgate trucks, as sudden stops or lane changes can leave you vulnerable and without warning. Use safe passing guidelines. Trucks have much larger blind-spots proportionally than passenger cars do. Heavy cargo and machinery require much more response time than a standard vehicle, so quick stops or adjustments are difficult if not impossible. Therefore, never try to beat a truck at an intersection or lane change. Drive defensively. Remain observant and vigilant of the activity and objects surrounding you. If everyone consistently used these safety methods, we would all be much more secure in our time on the road each time we drive.     
Truck Accident Injuries
The size, weight and cargo of these vehicles create some of the most devastating damage that occurs in roadway accidents. Vehicles of larger size and weight can cause more catastrophic crashes, and more quickly involve multiple vehicles in those collisions. Injuries that result from truck accidents include:       
Cuts and Bruises        
Whiplash       
Head Injuries      
Traumatic Brain Injuries (TBI)      
Broken Bones        
Neck and Disk Injuries        
Joint Trauma and Sprains        
Muscle, Ligament and Tendon Injuries        
Soft Tissue Injuries      
Internal Injuries and Internal Bleeding      
Dismemberment and Amputations     
Death      
The most important thing you can do following a serious truck accident is take care of your health. The ideal outcome for Thompson Law is that every client recovers as fully as possible and receives the best compensation possible. Grant Lion Law the opportunity to help you and yours after the accident.         
What Should you do After a Haltom City Truck Accident?
If there are serious injuries at the scene, the first thing to do is call 911 for emergency medical help. Emergency professionals such as EMS, police, and firefighters are equipped to best direct the next steps at an accident scene, caring for people and property and preventing further injury.        
Recording events of the accident is extremely important. Arming your Thompson Law team with the best information possible as they represent you in your claim can make all the difference in an optimal outcome. Take pictures, take down identification information such as ID's, plates, insurance policies, and contact information. Comply fully with emergency responders to ensure complete and accurate reports of the incident are generated.        
Do not make any statements to any representatives from insurance companies or other involved parties. These individuals are at the scene or following up to represent other parties. Call Thompson Law to represent you and your interests. Do not apologize to anyone involved in the crash, because even as a figure of speech this can be construed as an admission of guilt. Always take care and be safe departing the scene.  
If you have been injured in a truck accident, the time to call Lion Law is right now at 844-308-8180! Your dedicated attorney and professional team will guide your claim and case process, communicating with you every step of the way. Lion Law has an extensive network of partners Haltom City and throughout DFW who will help with all required medical or therapeutic treatments.     
While you focus on recovery, your dedicated Thompson team will focus on negotiating the best possible outcome for your case. Ryan "The Lion" Thompson and his associates are fully prepared to take a case as far as necessary to win your rightful compensation. After suffering a truck wreck injury, you need an expert advocate and a tenacious attorney to have your back.  Contact Lion Law today for your free consultation and case analysis. Bring a lion to the fight!      
Texas law limits the time to file a claim, so reach out now to speak with one of our experienced representatives about your accident.     
24 hours a day, 7 days a week, the Lion Law team is here to help Haltom City truck wreck victims, call anytime at 844-308-8180     
Texas law limits the time to file a claim, so reach out now to speak with one of our knowledgeable and compassionate representatives about your accident. 24 hours a day, 7 days a week, the Lion Law team (844) 308-8180 is here to help.
Contact us for a
free consultation
Dallas: 3300 Oak Lawn Ave., Suite 300, Dallas, TX 75219
Fort Worth: 5500 E Loop 820 S, Suite 109, Fort Worth, TX 76119