OVER $1.8 BILLION RECOVERED FOR OUR CLIENTS
| CLIENT'S NET RECOVERY | CASE TYPE | DAMAGE |
| --- | --- | --- |
| $151,228,722 | Medical Product | Heart Damage |
| $104,479,115 | Prescription Drug | Diabetes |
| $90,455,399 | Farming Product | Trade Disruption |
| $68,055,680 | Prescription Drug | Heart Damage |
| $60,084,411 | Prescription Drug | Internal Bleeding |
| $29,224,646 | Breach of Contract | Financial Loss |
| $26,923,200 | Medical Product | Skin Death |
| $25,384,216 | Medical Product | Bladder Cancer |
| $19,116,024 | Breach of Fiduciary Duty | Financial Loss |
| $17,617,042 | Breach of Payment Contract | Financial Loss |
| $16,126,301 | D&O Negligence | Financial Loss |
| $14,280,000 | Tire Failure | Quadriplegia |
| $13,177,989 | Sale of Credit Reports | Financial Loss |
| $11,991,670 | Commercial Vehicle Accident | Death |
| $10,026,249 | Tile Sealant | Pulmonary Injury |
| $9,512,498 | Chair Causing Fire | Death |
| $9,187,114 | Industrial Accident | Burn Injury |
| $9,181,172 | Fuel System Failure | Two Deaths |
| $9,146,004 | Medical Product | Cardiac Injury |
| $8,894,000 | Tire Failure | Quadriplegia |
| $8,540,000 | Vehicle Crashworthiness | Death |
| $8,010,186 | Fuel System Failure | Death |
| $7,911,694 | Fuel System Failure | Death |
| $7,787,790 | Tire Failure | Quadriplegia |
| $7,694,750 | Industrial Accident | Death |
Results above are cumulative total amounts net to clients. Past success does not guarantee future success.
Share This Story, Choose Your Platform!
Dallas Dog Bite Injury Attorneys Help You Understand Your Rights 
A 2020 pet ownership statistics by AVMA revealed that about 43.4% of Texas households own a dog. While most dogs have a calm temperament, they can attack a family member, neighbor, friend, or passerby when irritated. Dog bites can be painful and terrifying, leaving victims with minor or severe injuries or even death.
Dog owners may be held responsible for the injuries a dog inflicts on others, they are a large financial burden in the United States due to their incidence, associated health-care costs, and potential for serious outcomes such as severe injury, infection, or even death. Texas has strict laws that place the liability on the dog keeper or owner, who is required to pay for the pain and suffering, hospital bills, lost wages, and more. The average cost of a dog bite-related hospital stay was $18,200, about 50% higher than the average injury-related hospital stay.
According to a study from the Center For Disease Control (CDC)1, approximately 4.5 million dog bites occur in the United States each year, and 800,000 of those bites result in medical care. The U.S. population is approximately 328.2 million people as of 2019. That means a dog bites 1 out of every 73 people. In 2014, $530 million dollars was paid by insurance to dog bite-related claims.
If you are a dog bite victim, you will need an experienced lawyer from Thompson Law to claim your deserved damages. We are a family-run firm pursuing justice for our clients in Texas. Feel free to reach out to us today for a free and confidential case review.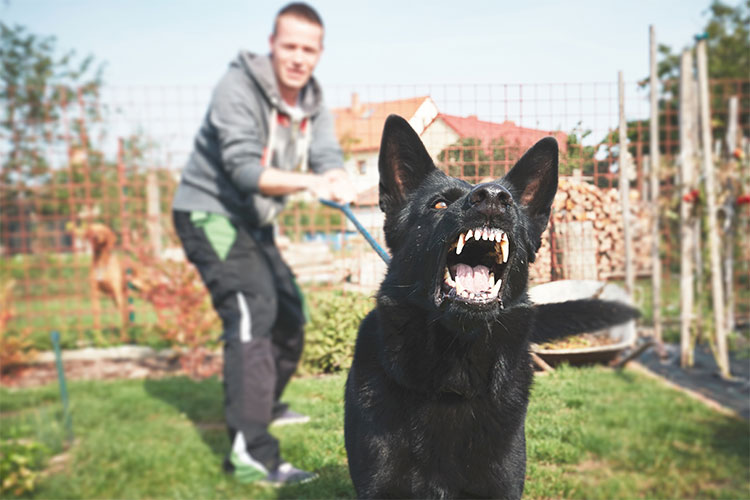 Types of Dog Bite Injuries
Dogs have very sharp teeth that can penetrate your flesh, bone, and muscle, causing severe injuries. Some of the common dog bite injuries include:
Puncture wounds
Head and neck injuries
Disfigurement and scarring
Eye injuries
Lacerations of the face, hands, arms & legs
Broken bones
Permanent disability
Infected wounds
Sepsis
Nerve damage
Rabies
If a dog bite penetrates a victim's skin, germs can quickly get into the wound depending on the bacteria or germs in a dog's canines. Even the slightest attack may lead to long term effects, as discussed below:
Disfigurement and Scarring
In most cases, a dog bite inflicts permanent scars or disfigurements. Even worse, it may cause severe injuries that affect your inner body parts beneath the skin. Children tend to be most affected, as dogs typically attack them in highly visible areas like the face. Victims may require skin grafting, surgeries, or stitches to reduce the extent of disfigurement. Sadly, some of the injuries might be a permanent reminder of the attack.
Psychological Effects
Dog bite victims also regularly suffer from psychological effects that may last for a considerable time. Post-trauma stress disorder (PTSD) is one of the most common. Additionally, you may have other symptoms such as depression, fear, stress, trouble sleeping, severe anxiety, and flashbacks.
Other victims can develop a phobia for dogs, especially young children. It may lead to emotional distress, outbursts, nightmares, regressions, anxiety, and mood swings in the long term.
Infections
Whenever you have a dog bite, it is essential to see a doctor immediately. The longer you wait, the higher the chances of wound infections. Over time you may experience some of these symptoms:
Swelling around the wound
Fever
Pus from the wound
Pain for long hours
At Thompson Law, we have handled various cases, and we do not receive a dime until we win the case. Notably, we won 13 out of the top 100 settlements in Texas in 2019. We are available 24/7 to help you out; thus, feel free to call us.
FAQs
What Should I Do When Injured in an Accident?
Thompson Law
2020-01-23T12:10:12-06:00
Get medical treatment! Your health and safety are the most important thing, and your first priority should be seeking immediate attention from a hospital or doctor. Not sure that you're injured or how serious your injury might be? You should still seek immediate medical attention if you are in a car accident, truck wreck or any other type of accident. 
Getting immediate medical treatment does two things: First, it makes sure that any injuries you sustained are properly diagnosed and treated and second, it helps eliminate any doubt that your injuries were caused by the accident. Often, the shock and adrenaline of an accident can mask symptoms of injury, but making the mistake to skip getting checked out can have serious consequences. By seeking prompt medical treatment, you protect both your health and your ability to seek compensation for medical bills and time off work, with the help of your attorney. 
Who is Responsible for the Dog Bite Injuries?
Texas adheres to the one-bite rule. It means the pet keeper or owner should be liable for any harm the animal inflicts on a victim. It is expected that the owner has a certain degree of knowledge that the pet is vicious or dangerous. For instance, a prudent, responsible person would not allow their dog to stray into a children's playground.
Further, the injured party can recover compensation for the injuries if the dog has ever bitten another person before. If both of these circumstances hold, the victim can have a valid case against the responsible party.
How Can You Prove a Dog Bite Injury
One of the most challenging tasks in a dog bite case is proving the likelihood of the animal biting someone when there is no previous reported case. You may be fortunate enough if there was a similar incident reported in the neighborhood or the dog is an aggressive breed. You also need to demonstrate that the dog was aggressive and can easily bite others when loose. However, the loving or peaceful behavior of the dog can quickly negate this argument. This way, the owner can develop a valid argument.
No matter how complex this process may seem, you can rely on experienced attorneys from Thompson Law in Texas. You can get a lawyer in 15 minutes for a free consultation to develop a strong case.
What Is Negligence in Dog Bites
Usually, negligence refers to a lack of ordinary care in preventing a dog from biting others. The keeper or owner has the responsibility of restraining the dog. To prove negligence in Texas, the plaintiff must have evidence that the defendant owns the dog that attacked them. Additionally, the complainant needs to show that the owner did not show a standard of care in preventing the dog from attacking.
How Long Should You Take to File a Dog Bite Claim?
Once the statute of limitation in Texas expires, you no longer have the right to get compensated by the careless or negligent pet owner. Therefore, make sure you file a lawsuit within two years from the attack day to get compensation.
What to Do After a Dog Bite
You also need to record the dog owner's address, name, and the breed's animal. If any persons saw the attack, take their contacts since they may be crucial witnesses. Additionally, remember to take photos of the injuries the dog inflicted on you. Do not forget to report to the police or animal control about the circumstance that led to the attack.
Contact Our Dallas Texas Dog Bite Injury Lawyers Today for a Free Case Review
If you are a victim of a dog bite that inflicted minor or severe injuries, you may be entitled to compensation. Get a free case review from Thompson Law Injury lawyers for listings, we are the best team of lawyers in Texas. For more details on how our attorneys can assist you, make sure you reach out to our bilingual legal experts.
Contact us for a
free consultation
Dallas: 3300 Oak Lawn Ave., Suite 300, Dallas, TX 75219
Fort Worth: 5500 E Loop 820 S, Suite 109, Fort Worth, TX 76119
San Antonio: 777 E. Sonterra Blvd., Suite 330, San Antonio, TX 78258