Truck Crashes
Trucks can be notoriously dangerous on the road. Their weight, payload size, overall size, and handling ability make them exceedingly precarious when they are not being operated with the driver's full attention and uncompromised ability.
Despite what we know about the damage these vehicles can cause when things go wrong, modern expectations of long-haul and commercial truck drivers can be extremely demanding, forcing the owner-operators and employees to take risks in order to meet tight schedules and cover the most mileage in the least time possible.
Individuals driving trucks as their personal vehicle sometimes make risky or negligent choices too, in the way that they load their trucks or with the items they decide to haul.
Road Time Limits:  The Federal Motor Carrier Safety Administration regulates Hours of Service that truck drivers may be on the road. However, these mandates are surprisingly lax. For example, property carrying drivers are only required to take a break after their 14th consecutive hour of driving.
Mechanical: Before antilock brakes were required, starting in 1997, they were a main cause of tractor trailer accidents, particularly jackknifing.
Road Conditions: Inclement weather, icy or oil-slick roads, and low visibility are all complicating factors for every vehicle, but most of all with semis, which require much longer amounts of reaction time to stop or change course.
Compromised Visibility: Truck size and load can result in blind spots for the driver or fully block visibility for the surrounding cars.
Driver Fatigue: Limited or off-cycle sleep opportunities, nearly always after long hours, and grueling onload/offload tasks, contribute to physically and mentally tired drivers.
Cargo Issues: Overweight, unbalanced, improperly loaded cargo can lead to leaks, spills, or handling difficulties.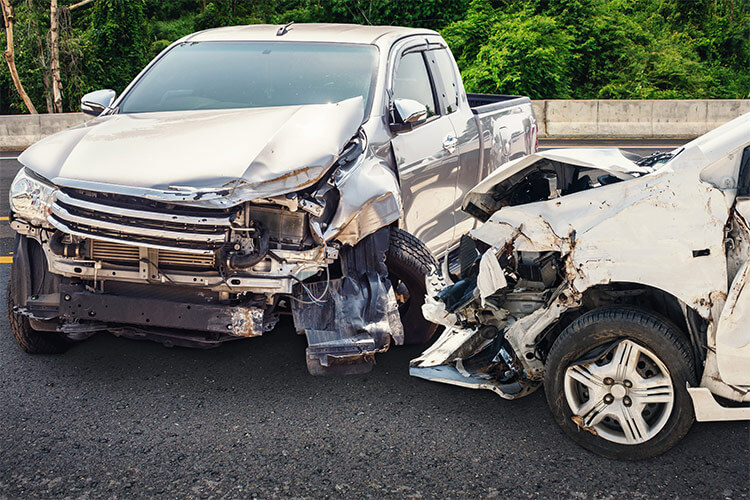 Truck Accident Injuries
The size of these vehicles results in some of the most devastating and impactful damage that occurs in roadway accidents. Vehicles of larger size and weight can cause more damaging, catastrophic crashes, and more quickly involve multiple vehicles in those collisions. Injuries that result from truck accidents include:
Cuts and bruises
Whiplash
Head injuries
Broken bones
Spinal injuries and paralysis
Neck and disc injuries
Joint trauma and sprains
Muscle, ligament, and tendon injuries
Soft tissue injuries
Internal injuries and internal bleeding
Dismemberment and amputations
Death
The most important thing you can do following a serious truck accident is take care of your health. At Thompson Law, our wish is for every client to recover as fully as possible and receive the best compensation possible. Please reach out anytime 24/7 and grant us the opportunity to help you and yours after the accident.
What the Trucking Companies Don't Want You to Know
In a nearly $800 Billion dollar industry, the resources at the disposal of the largest companies are practically limitless. Despite this overwhelming revenue, the industry also experiences a notoriously high turnover rate in employee drivers, in recent years reaching as much as 136%.
This revolving door can drain resources for appropriately vetting and training drivers, leading to negligent or poor drivers continuing to gain new employment or prolonging their tenure at companies already suffering from turnover loss.
Additionally, there are approximately 400,000 owner-operator truck drivers in the United States, and on average they operate vehicles that are over ten years old. When you have been hit by one of these individuals it can be difficult to determine who the actual at-fault parties are and the sources of liability in your case.
Despite an accident that involves one driver, there may be negligence and poor practice on an organizational level of the driver's contracting company, which also contributed to the dangerous circumstances leading to your event. The expert legal team at Thompson Law will do the work for you to make sure all those liable for your accident are held accountable.