What's Your Case
Really Worth?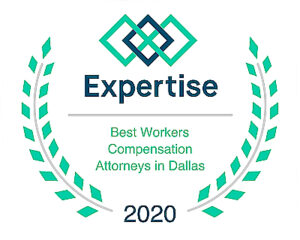 Dallas Workers' Compensation Lawyers
Did you know that how you choose to react after an injury on the job or contracting an illness due to your employment can have a major impact on your ability to recover compensation? Anyone who is hurt on the job in Texas is most likely covered by the workers' compensation laws within the state. This means that the vast majority of employees are entitled to recover benefits for their injuries and coverage of the associated costs after reporting the incident to your employer and filing a workers' compensation claim.
Workplace injuries are, sadly, some of the leading causes of accidents and fatalities across the country. While certain jobs have a higher level of risk than others, anyone can sustain a workplace injury and have their life forever changed by it.
You may have experienced a repetitive stress injury caused by sitting in the same position every day and carrying out tasks. Perhaps you were injured while working on a construction site and became a victim of a falling accident or a crush injury. Regardless of the reason, you are entitled to consult with an experienced workplace injury attorney in the Dallas, Fort Worth area to discuss your options.
Preparing to File a Workers' Comp Claim in Texas
There are several different things you need to know about filing a workers' compensation claim. These include:
As soon as possible after the incident, you need to inform your employer about what happened. Workers' compensation protects you if you were injured on the job and filing a workers' compensation claim will prohibit you from being able to pursue damages outside of the workers' comp program unless specific conditions apply.
Attending all of your medical appointments associated with your workers' comp claim is crucial because otherwise this may be used against you to try to prove that your injuries were not that severe.
There is a chance that your claim could be delayed or denied unfairly. In such a situation, you need to have the representation afforded by a Dallas-Fort Worth workers compensation attorney to help you navigate the complex system and fight for the compensation you deserve.
It may take weeks or months to discover the true nature of your injuries. Once you have achieved maximum medical improvement or the point at which doctors no longer expect you to recover any further from your workplace injuries, you may be in a position to settle with the workers' compensation program. However, having an attorney is strongly recommended to ensure that this gets accomplished fairly.
Your Rights as an Injured Employee
Regardless of how the accident happened, you have the right to file a workers' compensation claim. You may be ineligible to recover benefits if the injuries were caused by your own careless behavior, such as being under the influence of drugs or alcohol while on the job. However, in most other situations, you are eligible to recover workers' compensation benefits regardless of the circumstances of the accident. It is pertinent that you file a claim in a timely fashion. You need to report the injury to your employer right away.
While you have the right to visit with your own doctor and get a second opinion, you should still keep up with the appointments provided by the workers' compensation insurance program or your employer directly. Also, you have the right to retain an experienced attorney. Such an attorney will know the common pitfalls in the Texas workers' compensation system and can help you avoid some of the most common missteps that could lead to a denied or undervalued claim. Being able to properly illustrate the injuries you have sustained will have a big influence on your ability to recover compensation.
Most Common Workplace Accident Injuries
Some of the most common injuries associated with the workplace include:
Broken bones
Whiplash and other vehicle-related injuries while driving a vehicle for your job
Crush injuries from being pinned in between objects
Fire and explosion related injuries like burns and scarring
Back injuries from falling from heights
If your employer failed to have the appropriate safety gear or didn't provide you with the necessary training or supervisory assistance to do your job safely, they may be held responsible for your injuries.
Filing a worker's compensation claim may be the only way for you to put this incident behind you so that you can focus on recovery. As an injured employee, you already have enough to worry about and you should be focused on retaining an attorney who can assist you with getting the benefits you so desperately need. It is also important to realize that as an employee, your employer is prohibited from discriminating against you because of your choice to file a workers' compensation claim. They cannot harass you, fire you, demote you, or threaten you because you file a legal claim. If this is happening to you, you need to retain an experienced attorney immediately.  A workers' comp attorney at Thompson Law will have the experience to fight for you to get the compensation you need.
For more information about your case, fill out the form below or contact us at 844-308-8180 for a free, no obligation consultation today!
Contact us for a
free consultation
Dallas: 3300 Oak Lawn Ave., Suite 300, Dallas, TX 75219
Fort Worth: 5500 E Loop 820 S, Suite 109, Fort Worth, TX 76119
San Antonio: 777 E. Sonterra Blvd., Suite 330, San Antonio, TX 78258