What's Your Case
Really Worth?
Dallas Boating Accident Lawyers
As with any other type of vehicle accident, the boating accident lawyers at Thompson Law know the stakes of a boating accident in Dallas, Fort Worth can be quite high. You need someone who is committed to protecting your financial future. The consequences of a boating accident can have far reaching implications for your family and your life. A serious injury like a traumatic brain injury could lead to extensive medical treatments, pain, medications, surgeries and other impacts for your life.
What to Do Immediately After a Boating Accident in Dallas, Fort Worth, TX
Protecting your own right to move on after an accident like this is extremely important and that is why you need to contact a Dallas, Fort Worth boating accident attorney as soon as possible. With a limited period of time in which to file a claim to have it legally accepted by the courts in Dallas, Fort Worth you need someone who understands how the law works in these cases and the types of compensation to which you may be entitled. Whether your injury happened with a personal water craft, commercial vessel, pleasure boat or a jet ski, the complications of a boating accident can be extremely critical for how you proceed with litigation.
With many square miles and plenty of inland lakes across Texas and coastline that generates even more recreational opportunities for Texas boaters, boating accidents are a serious concern for boaters and passengers alike. A victim of a boating accident has options and legal rights to contact a Dallas, Fort Worth attorney. One who offers a free consultation to answer questions and address concerns after a boating accident that can help to clarify what is involved.
The complex rules surrounding safe boat operation in Texas may influence your ability to recover compensation in an accident claim. Don't try to handle a case on your own, let Thompson Law take care of you!
Do You Really Need an Attorney?
At Thompson Law, we know that the initial investigation following a boating accident is crucial for preserving your choices and your rights. The Parks and Wildlife Department in Texas will typically investigate wrongful death or serious injury boating crashes, but you also want to have your own legal team investigate the cause of the accident. The Texas Parks and Wildlife Code Section 31.104 shows that after a boating accident, the operator is required to:
Render necessary assistance to other individuals as necessary.
Exchange contact information such as identification of the boat, names, and address with any person who was injured or the owner of any property that was damaged in the boating accident.
Unfortunately, far too many boating accidents are caused by inexperienced vessel operators or someone who is not paying appropriate attention while operating the boat. Boat operator education is required for anyone born after September 1, 1993, in Texas in order to operate certain motor boats and personal watercraft. General boating rules such as the right of way apply to boating accidents as they do to vehicle accidents across Texas.
Why Evidence Matters in Boating Accident Claims
If you have been injured on a boat, our Dallas, Fort Worth boating accident lawyers know that getting the necessary evidence immediately after the accident can help clarify your rights moving forward with a claim. If the operator of the boat was negligent and wasn't paying attention, was under the influence of alcohol or was recklessly operating this vessel, you have grounds to file a claim for compensation. The typical injuries associated with a boating accident in Texas can include:
Broken bones
Lacerations
Internal organ damage
Head injuries
Spinal cord injuries
Fractures
Back pain
No matter how your accident happened, if it was partly due to the reckless or negligent nature of the boating operator, you may have grounds to fight. When you go up against a boat owner or his or her insurance company, it is imperative that you understand the full scope of your rights and educate yourself about how best to protect yourself going forward.
Get Help from Someone Who Cares Now
No one wants to find themselves in the situation of having to try to move on from a boating accident after you have been injured because of another person's behavior, but you may be surprised at the aggressive nature with which the boating operator or the insurance company will try to avoid paying out your claim. This can be a devastating experience for someone who is already coping with the detrimental implications of serious medical conditions.
Whether you have broken a bone or are now forever changed because of a spinal cord injury or paralysis, you have rights as a boating accident victim. Gathering the evidence after the accident has occurred and presenting this to an experienced Dallas, Fort Worth boating accident lawyer at Thompson Law should be your next step.
Contact us by calling 844-308-8180 for a free, no obligation consultation or fill out the form below!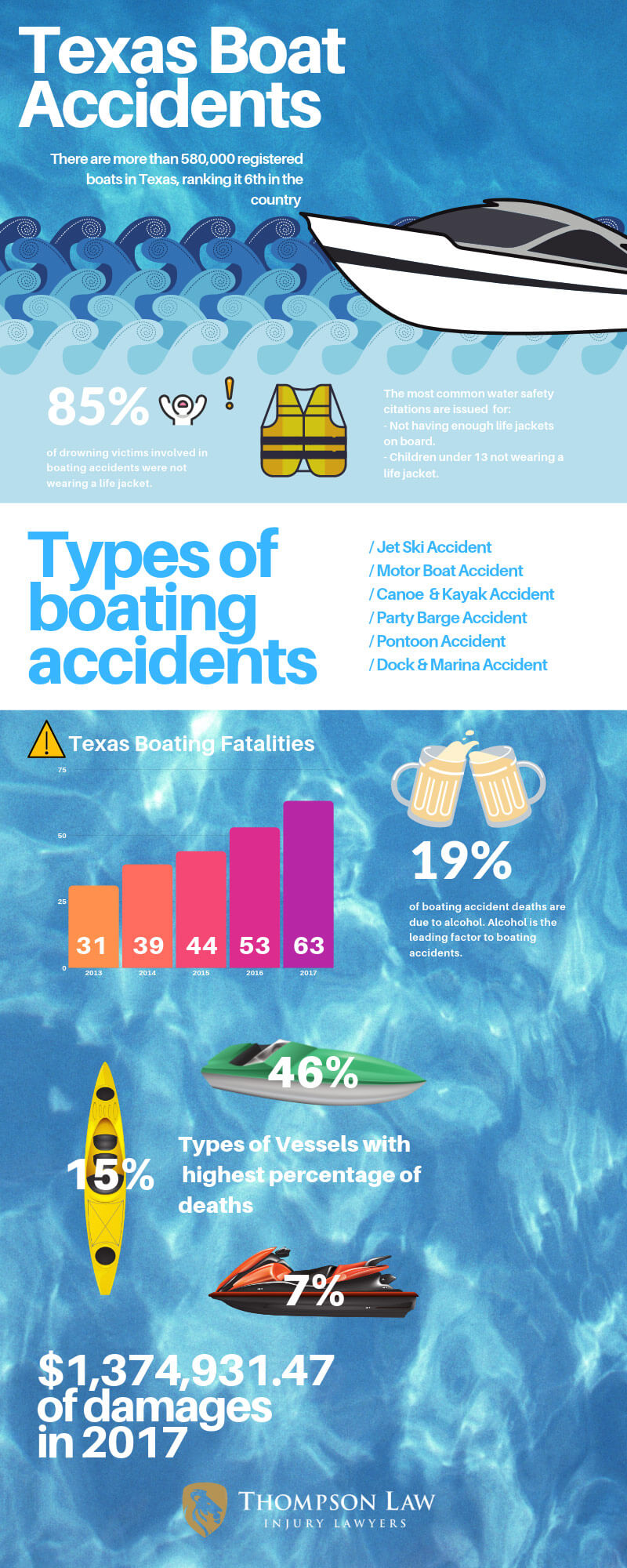 Contact us for a
free consultation
Dallas: 3300 Oak Lawn Ave., Suite 300, Dallas, TX 75219
Fort Worth: 5500 E Loop 820 S, Suite 109, Fort Worth, TX 76119
San Antonio: 777 E. Sonterra Blvd., Suite 330, San Antonio, TX 78258